I started by taking all of my DVDs out of the office so I could have a little space to work with. This basket on wheels was the perfect means of transport to the living room.
My husband has an unhealthy obsession with the Simpson's. Of course my little helper was excited to get started. She really did help! She was the garbage girl and kept my garbage pile nice and neat.
I found these amazing DVD slips at Target. I had looked all over the internet, so I was really surprised when I found the answer at my neighborhood Target store. Please be aware that for some reason I couldn't find them at the Super Target. They only had them at the regular Target stores. Weird...
Each pocket has an insert that holds two DVDs nice and tight. It's amazing how many movies have two discs that come with them. Does anyone ever watch the second disk of special features? I don't.
To make them pretty, I found this basket with a lid at Home Goods. I love it when organization and design come together!
OK, I know I could get creative with labels, etc. but I am a designer and not a cute label whiz. I actually like the simplicity of the labels. Want to know a little trick? I used envelopes to make the dividers. I just placed my label in the corner and stood the envelope up vertically. I think it worked out nicely.
I created a separate section for the little one. I didn't want to have to look thru the entire box to remember what DVDs we specifically have for her so I thought her own little section would be appropriate for those times when watching Monster's Inc. for the 2,000th time is a matter of life and death!
I also have a separate section for video games.
I came up with a good system to easily put the DVD back when we are done. I flip up the DVD right behind the one I took out so I know exactly where it needs to go.
Can you believe there are 150 DVDs in this tiny little box? Me either! It is nice because we don't have to walk to the office to get a movie, they are now in our TV room.
The basket underneath the table holds all of our video game controllers, etc.
The best part! Look at my office shelves now! Aren't they so pretty?? I even have room to spare.
I'm so happy I got to share this with you. I know a lot of people that are in the same boat and don't know of a good way to organize their movies. Hopefully this helps!
Thanks!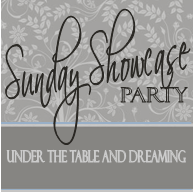 http://thehouseundone.blogspot.com/2011/10/its-like-christmas-around-here.html